Microsoft's Your Phone will get a fresh new look with the rollout of Windows 11.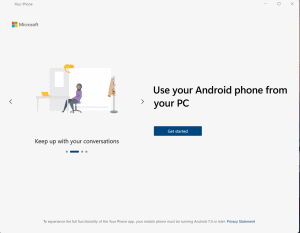 During its Surface hardware event, Microsoft briefly showed off an updated look for its Your Phone app. Microsoft refreshed several apps for Windows 11, including the Snipping Tool and the Photos app. It appears that the Your Phone app is getting similar treatment
Windows Latest spotted the refreshed app in action, and Microsoft's Vishnu Nath highlighted the updated app as well.
The Your Phone app allows people to connect their smartphone with their PC. It can show notifications, be used to make phone calls, and can mirror apps from supported devices. Your Phone's update brings the notification center to the left panel of the app.
The teased update shows a navigation bar at the top of the Your Phone app. This allows people to jump between the pages for messages, photos, apps, and calls.
Related : How to Get the New Windows 11 Photos App Right Now!
Overall, the design appears to fit in with Windows 11, which ships on October 5, 2021
Author Profile