Sometimes there comes a situation when we are unable to transfer files between our devices due to lack of connectivity or due to lack of feature just like in android and ios, we can't directly make transfer or for example sometimes we can't transfer files from laptop to our mobile phones or ipads but dont worry there is simple trick to do so that too without any application installation. Snapdrop.net
I tried this on my laptop and android mobile and windows laptop to ipad and its working like a charm.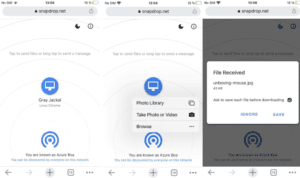 Connect your both device to a hotspot or common wifi network.
Open browser and type snapdrop.net
Do the same thing on other device, make sure device is connected to a wifi hostpot or same wifi network.
Once the snapdrop.net page is open on both device, you will see your device available there.
Just click on device you want to send data, image, video etc. and send.
The transfer will start with blazing fast speed.
Author Profile