At Samsung's recent Galaxy Unpacked event, the company announced the latest version of its Android skin, One UI 5.1. One UI 5.1 builds on the improvements made in One UI 5 and brings a host of new features and enhancements. In this article, we'll take a closer look at some of the key changes and improvements that One UI 5.1 brings.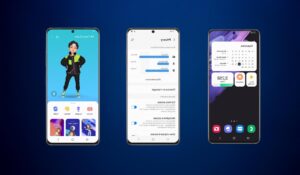 Design
One of the most noticeable changes in One UI 5.1 is the new design. Samsung has updated the look and feel of the skin, with a refreshed color scheme and new icons. The interface has been made flatter and more minimalistic, giving it a more modern look. The overall design is more refined and cohesive, with smoother animations and transitions between screens.
Privacy Controls
One of the key features of One UI 5.1 is the enhanced privacy controls. Samsung has introduced a new Privacy Dashboard that provides a comprehensive view of all the permissions that apps have requested. Users can now see which apps have access to their camera, microphone, location, and other sensitive data. They can also revoke permissions for individual apps directly from the dashboard.
Samsung has also added a new feature called Private Share, which allows users to share files securely with other Samsung users. Private Share uses end-to-end encryption to ensure that files are only accessible to the intended recipient.
Performance
One UI 5.1 brings several improvements to performance. Samsung has optimized the skin to run more smoothly and efficiently, with faster app launch times and reduced lag. One UI 5.1 also includes a new feature called RAM Plus, which allows users to allocate more RAM to apps for improved performance.
Multitasking
One of the most significant improvements in One UI 5.1 is the multitasking capabilities. Samsung has introduced a new Multi-Active Window feature that allows users to open up to three apps simultaneously on the screen. This feature is particularly useful for productivity tasks, such as working on a document while referencing a website and taking notes.
SmartThings
Samsung's SmartThings app has been integrated more tightly into One UI 5.1. The app now has a dedicated home screen panel, making it easier to access and control smart home devices. SmartThings also has a new feature called Quick Panel, which allows users to quickly access frequently used smart devices from the notification shade.
Other improvements
One UI 5.1 brings several other improvements and features. Samsung has added a new Digital Car Key feature, which allows users to use their phone as a key to unlock and start their car. The skin also includes a new Battery Share feature, which allows users to wirelessly charge other devices using their phone.
Conclusion
One UI 5.1 is a significant update to Samsung's Android skin, bringing a refreshed design, enhanced privacy controls, improved performance, and multitasking capabilities. The skin also includes several new features and improvements, making it a worthwhile upgrade for Samsung users. One UI 5.1 is currently rolling out to select devices and will be available on more devices in the coming months.
Author Profile